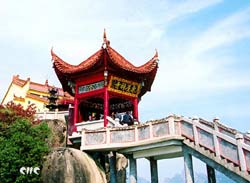 The area around the mountain is secluded -- a quiet landscape of streams, cascades, crags, caves, pines, and bamboos. Tang Dynasty and culminated in the Ming and Qing dynasties, when with over three hundred temples and monasteries enveloped in coiling incense smoke, Mount Jiuhua became known as the "land of Buddhas and incense."

At present 78 temples remain, including Huacheng, Flawless Monk, Hujiu, and Baisui temples, which house thousands of statues and relics such as Buddhist sutras and jade seals.

The skeleton of Monk Wu Xia of the Ming Dynasty in a sitting position is well-preserved on the mountain. The monk lived in a cave and subsisted on wild fruits and spring water until his death at the age of 126.

Tips

Admission Fee: Yuan 90 (March 1 to November 30) or US$11; ? 80 (December 1 to end of February) or US$10.
Opening Hours: 08:10 to 18:00.
Recommended: One or two nights for a Visit.