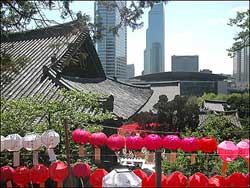 << Pongun-sa Temple is shown with the COEX Center rising up in the distance.

To be sure, unless you have driven or walked past the temple, you might be surprised that a temple of this size could be located in this busy, ultra-modern part of Seoul. However, the temple has a rich history that dates back to the early days of Buddhism in Korea and one that has survived both the ravages of time and war.

Established in 794 during the Silla Kingdom, the temple was originally called Kyonsong-sa which literally means ``seeing true nature.'' Although the temple fell into decline during the late Koryo era, it was reconstructed in 1498 under the patronage of a Choson Kingdom queen who renamed it Pongun-sa, or ``offering benefit.''

During the Choson Period though, Buddhism fell under severe state-imposed oppression as the government maintained Neo-Confucianism as the sole state religion. According to the strict social hierarchy of the time, monks were treated at the same social level as slaves and were not even allowed to enter the gates of the capital city. However, during the reign of King Myongjong (1545-1567), Korean Buddhism's status changed. Since King Myongjong was still too young to govern the nation, his Buddhist-inclined mother, Queen Munjong, retained powerful political influence. With her strong support for the re-awakening of Buddhism, the reconstructed Pongun-sa became a cornerstone for early-Choson Buddhist revival in the nation.

During this time, the temple was moved about 1 kilometer northeast from its original location and rebuilt. Sadly, while it might have survived the wrath of Confucianism, like many temples in Korea, Pongun-sa could not escape two other much-feared enemies: fire and war. The temple was destroyed by fire in 1592 and 1637, and many of the buildings were destroyed again during the 1950-53 Korean War. Since then, Pongun-sa has been restored to much of its former glory and today serves as an important temple of the Chogye Order.

Upon entering the main compound of the temple, comprised of 20 buildings, the first building that you will see is Taeungjon which was renovated in 1982. Inside Taeungjon, three Buddha statues are enshrined: Sakyamuni Buddha in the center, Bhaisagya Buddha on the left and Amitabha Buddha on the right. The calligraphy on the hanging board, written in the middle of the 19th century, is a work of art by Kim Chong-hui, scholar and famous calligrapher of the Choson Period.

In front of Taeungjon is an impressive three-story stone pagoda, which enshrines a piece of the Sari of Sakyamuni Buddha that was brought from Sri Lanka in 1975. There are also two smaller stone lanterns that were built in 1975.

Perhaps the most impressive structure found within the temple compound is The Great Statue of Maitreya Buddha. Built in 1996, it is the tallest stone statue (23 meters) of Maitreya Buddha in Korea.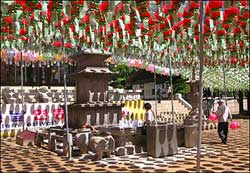 A three-story stone pagoda in front of  Taeungjon, one of the buildings of Pongun-sa Temple / Korea Times Photos by Jeffrey Miller >>

Near the Great Statue of Maitreya Buddha is Panjon (Tangible cultural Property No. 83), a storage house for Buddhist sutras that are carved on wood blocks. Constructed in 1856 to store the wood blocks, Panjon remains the oldest building in Pongun-sa. It has no fixed walls; only doors and movable wooden panels preserve the wood blocks through proper ventilation. Because of its historical significance, Panjon has more cultural value than any other building in Pongun-sa.

There are 3,438 wood blocks on which 15 sutras are carved, including Flower-Garland Sutra and Diamond Sutra. The Flower-Garland Sutra (designated Tangible Cultural Property No. 84) is considered a masterpiece and as one of the few remaining in Korea, it is an important source of studying the history of Buddhism, Buddhist philosophy and evolution of the Korean language.

If you walk back to the center of the temple compound and climb up some steps behind Taeungjon, you can get a nice bird's-eye view of the temple from here. It's an interesting contrast with the traditional buildings of the temple and the glass and steel structures of modern Seoul rising up all around. Up here there are three smaller structures _ Yongsanjon, which was built to commemorate Buddha's most famous sermon known as the ``Lotus Sutra,'' and Pukkukbojon, a hall for paying respect to traditional Korean folk religions.

The temple is a major center for the ``Seon'' (Zen) sect of Buddhism, which focuses on meditation. Additionally, the Institute for Translating Sutras from Chinese into Korean was 
established here in 1972, and has produced many excellent translators.

Nowadays, with its impressive historical background and its unlikely location in urban Seoul, Pongun-sa is a holy place for worship and practice for more than 200,000 lay Buddhists. In addition, the temple remains a beautiful, interesting and comfortable cultural center for Koreans, as well as foreign residents and visitors to Korea who have been fortunate enough to discover its charm.

As the nation prepares to celebrate Buddha's Birthday this coming Sunday, Pongun-sa Temple is one of the major sites for some of the festivities. From now until this Sunday, visitors can enjoy a beautiful exhibition of lanterns made of ``hanji,'' traditional handmade paper made from mulberry trees. Approximately 40 designs of uniquely colored lanterns embellished with Buddhist designs will be on display. Admission to this exhibition is free of charge.

Pongun-sa Temple is also very easy to get to by bus or subway. However, the best way is by subway line 2. Get off at Samsong Station and just follow the signs to the COEX Center. From the subway station it is about a 10-minute walk to the temple.

Whether you are in Seoul for Buddha's Birthday or just here visiting at any other time, Pongun-sa Temple is definitely one of the city's ``must see'' attractions. Like its name suggests, Pongun-sa has much to offer with its historical and cultural heritage for visitors who find their way here.