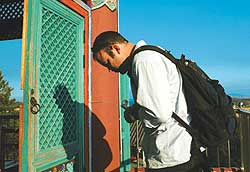 A "temple stay," which revitalizes the body and soul, is growing in popularity not only among Buddhists but among non-Buddhists as well. This summer, various programs are to be introduced, allowing the user to choose according to his or her own taste.

A Personalized Temple Stay

One example would be the mercy meditation temple stay that takes place under the theme "Me, you, us together" at the Magok Temple, located in Gongju, South Chungcheong Province. Various programs are provided, such as healing meditation for those who have hurt their body and souls, and programs supporting themes such as new lives for divorcees, a beautiful silver life for senior couples, hope for unemployed youth, and forgiveness among married couples. Monk Maga (46), missionary director of Magok Temple, said, "Healing is more effective when people in similar situations open up to each other and embrace each others' pains; therefore, we have made such personalized programs."

Daewon Temple, located in Boseong, South Jeolla Province, operates a temple stay under the theme "Let us prepare for death," and has programs to learn about death invocations, writing wills and reading soul prayers.

Temple Stay with Local Tourist Sites

Buseok Temple in Seosan, South Chungcheong Province, operates a bird-watching temple stay where visitors get to watch birds living in the nearby Cheonsu Bay. After worshipping Buddha and having tea with the monks on the first night, visitors learn about the Buddhist concept of nature as well as the ecology of Cheonsu Bay. Bird watching in Cheonsu Bay takes place the next day.

Daeheung Temple in Haenam, South Jeolla Province, will operate a Namdo cultural experience program every second week of the month in addition to the existing "walking in the morning forest" temple stay. There will be a chance to experience the natural environment of Daeheung Temple every first and third week of the month.

Geumsan Temple in Kimje, North Jeolla Province, will hold a temple stay from July 1 to July 3 under the theme "Eat when hungry, sleep when tired." The daily routine consists not only of traditional Buddhist practices such as worshiping Buddha, Zen meditation, chanting of the Prajna-para-mita-sutra and 108 bows, but also includes programs such as making tea with wild leaves, hiking at Mount Moak, and visiting Gimje's Byeokgolje and Arirang Literature Hall.

Temple Stay in Collaboration with the "Five Days a Week Class" System

Every fourth Saturday of the month when there is no school, Dori Temple in Gumi, North Gyeongsang Province, holds sex education classes and lessons in environmental art and mosaics for rural children who rarely have the benefit of visiting cultural centers.

Daeheung Temple in Haenam, South Jeolla Province, operates a temple stay every fourth week of the month where children take a walk in the forest early in the morning with their parents.

Summer Training Camp with Traditional Ascetic Practice

If a temple stay is a light program where non-Buddhists can participate, the temple summer training camp has a more in-depth agenda made for Buddhists. Daeseung Temple in Mungyeong, North Gyeongsang Province, revived the traditions of the temple that caused a Zen sensation during the time of the monk Seongcheol, and Cheongdam and will hold a training camp in the form of "trying to stay awake 20 hours a day."