Kofukuji used to be the family temple of the Fujiwara, the most powerful family clan during much of the Nara and Heian Periods.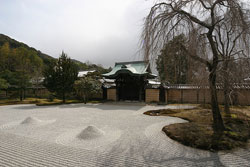 << Kofuku-ji temple and the five-storied pagoda
The temple was established in Nara at the same time as the capital in 710. At the height of Fujiwara power, the temple consisted of over 150 buildings.

Today, a couple of buildings of great historic value including a three and a five storied pagoda remain. The five storied pagoda is one of Japan's tallest and the symbol of Nara.

Kofukuji's Treasure House exhibits part of the temple's great art collection.