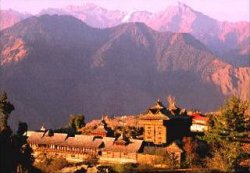 << Up and above in Dhramsala

Perhaps the world  most popular destination for such quests is India, to which no trip would be complete without a stay in Dharamsala. Perched on the edge of the great Himalaya Range, the steamy plains of India stretched out below, Dharamsala offers an incredibly diverse range of religious and spiritual experiences to be explored. The hub of everything is the village of McLeod Ganj, a former British military hill station, and now home to spiritual seekers, missionaries, and pilgrims from all over the world. The village itself instills a sense of wonder, stretched out through pine forests, laced with footpaths leading to waterfalls, framed by the snowcapped peaks in the distance.

McLeod is best known for being the location of the exiled Tibetan government and the home of the Dalai Lama. Since his escape from the wrath of Communist China in 1959, thousands of Tibetan refugees have followed the Dalai Lama into India, and still more arrive every day, contributing to the village  rich spiritual energy. Parts of McLeod have become a little Tibet?

Prayer wheels line the streets, monks in robes roam about, and visitors can attend Buddhist pujas at the residence temple of the Dalai Lama, now the hub of the entire Tibetan Buddhist tradition. There are a lot of opportunities to learn: the Tushita Centre, located in nearby Dharamkot, offers 10-day introductory courses in Buddhism, and at the Tibetan Library as well as several local monasteries, high Tibetan lamas offer lessons and interpretations on the dharma on a daily basis. Additionally, Dhamma Sikhara Vipassana Centre offers 10-day meditation courses in the Goenka tradition.

Aside from the obvious Buddhist influence in McLeod Ganji, the other major religions of the world are strongly represented here as well. As would be expected inIndia, Hindu presence is evident, and each weekend pilgrims walk through town on their way to visit nearby Bhagsu village  Shiva temple and cold springs. Dharamsala  close proximity to Kashmir has brought in a sizable population of Islamic practitioners, who own many of the shops in the area, and can be seen bowing down towards Mecca in prayer fivetimes a day. The former British colonisation in the area introduced Christianity to the region, and is still represented at nearby St. John of the Wilderness Church and amongst many European and American tourists visiting the area.

Surprisingly, Judaism is strongly represented in Dharamsala as well. Each year hordes of Israeli holiday-seekers gather in the surrounding villages to relax and enjoy. In fact, their presence is so strong, that in some areas signs and menus are only in Hebrew! Jewish holidays are celebrated in several 慗ewish Houses? staffed by rabbis from Israel.

Apart from major world religions, the real diversity of McLeod  opportunities begins with the metaphysical and less traditional types of spirituality. The streets are billed with posters advertising all kinds of experiences, like past-life regressions, crystal healing, spiritual massage, reiki, pranic healing, soul realisation, tai chi, meditation, and several different types of yoga, taught in the ashrams that dot the surrounding hillsides. Religious pseudo-sects, such as A Course In Miracles and Jehovah  Witness offer free lectures and informational sessions.

Alternative medical practioners have set up shop, including clinics offering acupuncture, Asian bio-energetics, Tibetan medicine, chakra balancing, and Ayurveda. Certification courses are available in almost everything. Combine all these opportunities with fresh air, gorgeous scenery, and cheap accommodation, and a spiritual mecca for travellers from the all over the world is established!

Tourist infrastructure in McLeod Ganj and the outlying villages will suit the needs of any traveller. Located 12 hours drive north of Delhi, India  capital city, Dharamsala is served by numerous buses in varying classes, and is accessible by train via a station at Pathankot. The dining options in McLeod Ganj are among the best in all of India. Restaurants serve cheap and delicious food from all over the world. From streetside thali to Japanese sushi, popular cuisines from all regions of the world are ready and available - a welcome relief after travelling through other parts of India.

Many travellers spend their evenings chatting about their latest spiritual endeavours over a cup of chai at one of the many stalls lining the streets, such as Sunil  Sunrise Caf?, or even over a beer at McLlo  Beer Bar.

Accommodation options are numerous and varied, ranging from charming Western-style hotels down to dorm rooms with shared cold-water showers, the cheapest starting at 60 rupees a night. Visitors can choose whether they would like to stay down in the hustle and bustle of the village or if they would rather seek out some solitude in a more isolated spot up above on the ridge. But fear not, no matter what price you pay or where your guesthouse is located, your room is sure to come with an epic view.

Dharamsala is a place where people generally make it their business to be kind and compassionate to one another. It  incredible the diversity that exists in such a small area. And everyone gets along just fine. More than fine, actually. This is a place where strangers make eye contact and smile.

A place where people make helping one another a priority. In short - a place full of faith, acceptance, and appreciation.

When you first arrive in Dharamsala, try to not be overwhelmed by the huge range of spiritual opportunities that are available. Rather, spend some time settling down and let the right ones come to you. Truly, atheists aside, there  something for everyone in Dharamsala, and it is near impossible to not learn something new about the nature of yourself and the universe during your stay. But even a non-believer would find comfort in the beautiful energy of the Himalayas on a day  trek to the ridge overhead or in watching sun sink into the dusty plains below. So if you are looking for a little inspiration, some good conversation, a bit of nature, or an unpredictable journey of spiritual exploration?next stop: Dharamsala!

GETTING THERE:
Bus
Bus From Delhi to Dharamsala 12 hours
Public: 256 rupees Private: 350 rupees

Train
Closest station is Kangra Mandir
Pathankot is served by more trains more frequently. Costs vary based on class and station of origin

Air
The local airport has discontinued service for an unspecified length of time.
Closest major airport in operation is Indira Ghandi International Airport in New Delhi, although several smaller airports are located closer to Dharamsala. Check with travel agents for details on flights to these domestic airports.

VISA:
Foreigners must apply for and obtain tourist visas before travelling to India.
Six-month multiple entry visas cost $75, with additional service fees based on nationality. Apply at your nearest Indian embassy or consulate.
BEST TIME TO VISIT:
In February/March before the April-Septmeber monsoon begins September-November before it gets too cold

MORE INFO:
Tushita Meditation Centre phone: 221866
Dhamma Sikhara Vipassana Meditation Center
phone: 221309 www.sikhara.dhamma.org
Dharamsala Informational Website:
www.gonomad.com/destinations/0010/axelrod_dharamsalaguide.html
Buddha Hall Crystal/Reiki/Yoga/Mediation Courses www.buddhahall.com
Neoyoga Reiki/Yoga/Alternative Healing/Holistic Health neoyoga.net
General Information on Courses, Tours, Activities, & Travel www.dharamsalanet.com