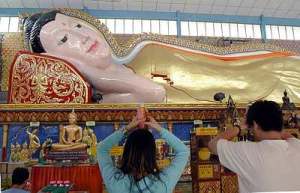 << Devotees praying in front of the 33m majestic reclining Buddha statue at Wat Chaiya Mangalaram

Built in 1845 at Burma Lane, the Buddhist temple had never failed to attract visitors, both locals and foreigners, even on weekdays and non-peak seasons.

Standing in the centre of the entrance to the main shrine is a brass urn for devotees to place joss sticks.

There are also a few colourful statues of mythical creatures, including two seven-headed serpents and two beautiful dragons that "guarded" the two side entrances.

Inside the main shrine where the majestic reclined Buddha statue reclined is located, about 30,000 embossed smaller Buddha images, painted in gold, adorn the walls. 

Smaller size Buddha statues in different poses and other statues of Buddha disciples are also located in the shrine with donation boxes for devotees to put money in.

Two fortune telling machines lie at each side and with every 50 sen coin, visitors can get a number to tell their fortunes.

Marian Ting, 25, from Hong Kong, said she was impressed with the unique and beautiful temple.

"This is my first visit here and although we have many temples in Hong Kong, I had not come across a reclining Buddha statue," she said. She had lighted a lily-shaped candle at the place.

There were a few smaller shrines and pagodas beside the main one. Inside a shrine, a monk performs blessings for devotees.

There is a Nan Hai Guan Yin Fuo Zu (Southern Sea Goddess of Mercy)'s shrine hall while another shrine houses a Buddha statue in a sitting position. 

Inside a much smaller hut-like shrine is the famous Pra Phrom Buddha (Four faced Buddha) where devotees pray at the different faces for different wishes, namely Na metta (peace), Mo ka ru na (wealth), Mu ti tah (relationship) and O bek ka (education).

Praying there are local visitors, Sallamuthu Muniyandy, 30 and his wife, Panccavarnam Berumal, 25, from Butterworth.

"We are not Buddhists but I have long heard about the beautiful temple and would like to come here for a look," he said.

Penangite, Anna Khoo, 71, who has been residing in New Zealand for the past over 30 years, said she came back to have a look at the temple. 

"There are not much changes from what I remembered and I am glad to see the temple being well-maintained and in good shape," she said.