This old temple was established by Kuya Shonin. The statue of Kuya producing 6 Amidas from his mouth is widely known. It is said that Kuya carried a Kannon statue with him by wagon to appease epidemics.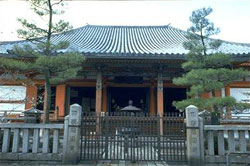 Rokuharamitsu-ji is a Shingon-sect temple of the Chizan school founded in 963 by Kuya. All of the original buildings except the Main Hall were destroyed by fire in 1183. The oldest structure today is the Main Hall rebuilt in 1363 and now an Important Cultural Property. 

The statue of Kuya (Important Cultural Property) was crafted in the 13th century. Small figures coming out of Kuya's mouth represent the priest invoking the name Amida Buddha. 

This temple has many outstanding sculptures from the 8th to 14th centuries including the image of priest Kuya and the sitting image of Lord Taira-no Kiyomori.
Address
81-1 Rokuro-cho 2-chome, Matsubara-dori Yamato-oji higashi-iru, Higashiyama-ku, Higashiyama-ku, Kyoto City.
Tel: 075-561-6980