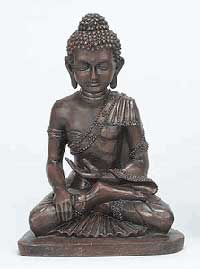 While the Buddhist masters have long taught that desire for pleasure and gratification begets unhappiness, a visiting shopper cannot help but notice the city's trove of enticing specialties - silk, cotton, bamboo, rattan, water hyacinth, teak, silver, gold, bronze, glass, porcelain and gems that Thai craftspeople, artists and ethnic groups produce.

But in the seeming clash of purpose, it is possible to find an overlap, a way of appreciating both sides of Thailand: try putting a little Buddhism into Christmas or Hannukah. A token of Buddha's teaching this holiday season may inspire thoughts of how transitory worldly happiness can be and how necessary the ideals of compassion, sharing and generosity are.

For instance, the Buddha statues found in the many antique and handicraft shops that are located in wooden houses and sprinkled around Bangkok - such as Rasi Sayam (32 Sukhumvit Soi 23) or on the shelves at Baan Ton Mai or Ploy Decorate (Silom Village on Silom Road) or stalls at the Chatuchak weekend market (Paholyothin and Kampheng Phet Roads) - all have spiritual meanings.

A statue of the Buddha with his hand resting gently in his lap is a reminder to develop peace within ourselves; a statue with the Buddha's right hand touching the ground shows determination.

A favorite gift of many foreigners living here is a gracefully mounted copper (or wooden) Buddha hand. When turned down, it symbolizes the offering of a blessing; bent up with the middle finger and thumb touching, it shows a gesture of great compassion. The thumb and ring finger touching express good fortune.

Other meaningful gifts can be found among the items used by Thais when they make daily offerings at altars throughout the city to remind themselves of Buddha's teachings.

They give flowers - never artificial - as reminders of how quickly things change. They light lamps or candles that are meant to drive away the darkness of the human mind and spread light on everyone without discrimination. And they burn incense to symbolize spiritual cleansing.

The Suan Lum Night Bazaar (the corner of Rama 4 and Witthayu Road), the Chatuchak weekend market and Narai Phand (127 Rajadamri Road, with four floors of typical Thai crafts) offer a multitude of Buddhist-inspired choices in candles, lamps, incense burners, bells and gongs as well as books on Buddhism and statues of Buddha and monks. Even Buddhist teachings that are hand-printed in ancient Khmer script on long bamboo strips can be framed as pious wall décor.

There is also a wide assortment of flower vases. In addition to the mango wood carved into unique shapes and available at every street and night market, there are works that are both distinctively artistic and functional. In particular are the pieces made by Mr. Chit at Ego Clay (Section 7, Chatuchak; www.egoclay.com), an artist who has been selling his ceramic vases at the weekend market for nine years. His vases range from a ball shape to tall boxes or elongated bottles abstractly painted in hues of red, green, brown, black and copper.

To search out Buddhist-inspired items, try an unusual gift-hunting tour while in Bangkok: Start with Somnuk Antiques (231 Mahachai Road, Samran-Rad) near Chinatown to watch craftspeople at their homes in an out-of-the-way nook hammering out monks' alms bowls that can double as vases or condiment holders on a party table.

Turning left onto Bamrung Muang Street, cross the canal and Mahachai Road and walk toward the giant red ceremonial swing in the center of a roundabout.

Along both sides of the two-block stretch are Buddhist accessory shops with contents ranging from yellow candles that are two meters, or nearly seven feet, high as well as fans and bronzed temple bells. There are also golden Buddhas from finger-size to polar bear proportions and the famous Thai benjarong, hand-painted bowls and plates in five-colored designs from ancient textiles and wall paintings formerly reserved exclusively for royalty.

Next, take a taxi to the Grand Palace, where vendors spread out upon the sidewalks of Maharat Road a trove of amulets carved with or encasing the different Buddha or Thai monk images to be used as protection from harm.

The tour could end with a walk through the palace grounds and nearby temples, where young monks study paths to enlightenment.

On Sundays, the Mahathat temple hosts a large market, offering antiques, Thai herbs, Buddhist amulets and phallic talismans.

Shifting away from Buddhism to a more material level, any gift shopper will find the shops and markets of Bangkok brimming with shoes, handbags, jewelry, belts, baskets, books, picture frames, paintings, prints, photos, carvings, furniture, wall hangings, mobiles, wind chimes, woven textiles, scarves, shawls, blankets, Barbie clothes, toys, bowls, plates, spoons, umbrellas, beads, fish, birds and much more, both clever and kitsch.

Visit the Jim Thompson House (6 Soi Kasemsan 2, Rama 1 Road) where higher-priced but fine quality silk cushions, spreads, shawls, blouses, ties, robes, toiletry bags and Christmas napkins are available in a shop next to the beautifully preserved wooden museum home of the legendary Thompson, the American who fastidiously promoted Thailand's silk industry before his mysterious disappearance in Malaysia in 1967.

The house in traditional wooden Thai style sits along the canal in a tropical garden. (If you are in Bangkok on Dec. 5, 12 or 19, visit the massive Jim Thompson warehouse sale at the Bangkok International Trade and Exhibition Centre, 8 Bangna-Trad Road.)

Should a tour in old Bangkok or even in its many markets and shops not be possible before the holiday season, one can also search for both Buddhist and nondenominational articles through the Internet.
---
For starters, try the following sites:

www.JJ247.com, or www.chatuchak.net, the Web site for the Chatuchak weekend market.
www.azibaza.com for the Asiatic Bazaar, which offers antiques and Buddha statues from the region.
www.chiangmaicraft.com offers Buddha statues, woodcraft and puppets from northern Thailand.
www.asiannouveau.com sells ebony box sets, bamboo vases, bowls and trays, pillows, rugs and dinnerware.
http://thaihandicraft.fol.nl. has Buddha statues and gifts.
http://lotussculpture.com/mudras. htm or http://shop.store.yahoo.com/lotus-sculpture/busc.html for statues, including the hand that offers a blessing.
www.orientalplace.com is an upmarket site and shop with antiques, art and crafts.
www.dcothai.com for some of the country's best coffee table books on Buddhism, silk, architecture and crafts.
www.taradpra.com for amulets, both ancient and contemporary.
www.bannok.com for Akha tribal products from Chiang Rai province, such as small ceramic bird whistles, embroidered bags and clothing.
www.jimthompson.com for Buddha prints, Thai horoscopes, clothing and books.

Be aware that Thai law prohibits the export of antique Buddha images without special permit.