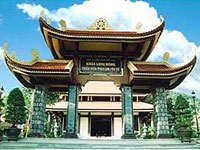 << Truc Lam Zen Sect
Yen Tu is not a new tourist destination. Many travel agencies have organised tours to the site, in order to meet the increasing demands of pilgrims and travellers. A new tour has recently been added to the menu, which includes a visit to the Truc Lam Zen Monastery, with the change to attend a meditation teaching by respected Zen masters and to better understand one of the most unique Zen Sects of the country.
A climb up the mountain will lead tourists to the sacred land of Buddhism, the Bronze Pagoda on top of the Mountain. The newly restored Pagoda, situated 1,068 metres above sea level, is seen as a golden lotus with glittering patterns. The 20-ton pagoda is assembled from bronze panels, and bears the Tran Dynasty architecture and patterns.
Going down the mountain, tourists can enjoy the fantastic bird's-eye view with a cable car ride, or walking down a 700 metre path lined by old red pine trees. The last stop on the trip should be the Truc Lam Zen Monastery, on the edge of the mountain. The Monastery is built on top of the Lan Pagoda, formerly the place where King Tran Nhan Tong, the founder of the Truc Lam Zen Sect, often held his teachings.
Truc Lam Zen inherits the essences of the different sects of Buddhism from China and India, and combines them with the traditions and culture of Vietnam.
The Yen Tu festivities begin on the ninth day of the 1st lunar month and last until the end of the 3rd month. The tour, which include attendance at a Zen teaching, is one of the most sought after tour at the moment. Many tourists have later come back to attend other teachings by the Yen Tu monks.