As South Korea's capital and most populous city, Seoul represents the country's center for business, education, and modern culture.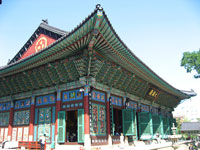 << The world famous Jogye-Sa, in Seoul
Mountains circle Seoul on all sides with Namsan (South Mountain) springing up in the center. Although the Han River once marked the southern boundary, the city has sprawled across to the southern side with some 2 dozen bridges crossing it and one subway tunnel underneath.
History
Seoul is a city with ancient history, the area of Seoul appears in history as early as 18 BCE, when the kingdom of Baekje founded its capital, Wiryeseong, in what is now southeastern Seoul. Modern Seoul descends from a city called Hanyang, built during the Goryeo era, which then became the capital of the Joseon dynasty in 1394. Seoul has been the capital of successive Korean nations ever since.

Places to visit
One of the must visit places in Seoul for people interested in Buddhism is Kyonji-dong. The place provides an abundant source of information about the religion. There are more than thirty stores selling Buddhist supplies here: from books on Buddhism, prayer beads, monk's robes, Buddhist statues, and everything else you could possibly imagine. Monks and students studying Buddhism often visit this street, where the aroma of incense fills the morning air and a sense of tranquility persists.
Kyonji-dong
+82 (0)2 720 5121
Open Hours: 9am - 7pm Mon-Sat; closed Sun
Nearest station: Jonggak Station-Line 1, Exit 2
Other places of interest include:
Getting there
Lodging
Seoul City has 72 lodging facilities listed with Life in Korea.
See the full list for this area
.

Transportation
Bus: The Express Bus Terminal in southern Seoul has express buses to nearly every major destination in Korea. For less popular destinations, you will need to use one of the 5 inter-city bus terminals:
Nambu (south- Seocho-dong, Seocho-gu)
Dongbu (east- Guii-dong, Gwangjin-gu)
Seobu (west- Daecho-dong, Eunpyeong-gu)
Sangbong (Sangbong-dong, Jungnang-gu)
Sinchon (Sinchon-dong, Seodaemun-gu).
Plane
Gimpo Domestic Airport used to be the main gateway to Korea. Approximately 45 minutes from downtown Seoul, you can get there by subway (line 5), taxi, or bus (regular city bus, special airport bus, and limousine bus). However, in March 2001, the new Incheon International Airport opened to handle the international traffic for the Seoul area. Depending on traffic, it can take 1 1/2 to 2 or more hours between the airport and downtown Seoul by bus or taxi.

Subway
With 6 completed subway lines, and 2 more nearing completion, you can get almost anywhere you need to go without having to deal with Seoul's infamous traffic. See the subway section for more information.
Train
Seoul Station, located near the downtown area, has trains for destinations south of Seoul. Cheongnyangni Station, located in the northeastern part of Seoul, has trains for destinations north and east of Seoul.