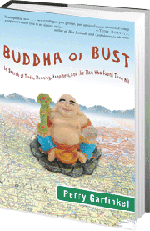 Garfinkel is a veteran journalist and spirituality expert who has appeared on many TV and radio shows.
The Times Sunday Business Section story cites several reasons for the trend:
More interest in "vacations with meaning" that lift travelers to a higher sense of purpose;
A rising middle class of expatriate and domestic Asians and Middle Easterners whose religions encourage travel to places their traditions hold holy;
The surging religious revival movement;
A parallel but opposite increasing sentiment that traditional religious institutions are not the only place to find spiritual sustenance – or not the place at all;
Among other facts, he reports on:
A Travel Industry Association survey released in November that found 25 percent of respondents were interested in taking a spiritual vacation, and that 12 percent said they were more interested now than they were five years ago;
Vatican data showing from 220 million and 250 million people visit religious sites each year;
Up to 40 percent of people going to spas now look for some type of spiritual experience;
Antenna Audio, an audio tours company, estimates rentals have increased 34 percent in the last three years at top spiritual destinations;
Tourkey, a Houston-based tour company focused on "biblical travel," has seen religious-oriented bookings increase 200 percent since 1995 to Turkey, which now promotes itself as "the other Holy Land."
Garfinkel, who has covered travel industry trends as a contributor to The Times and other national publications for more than 25 years, wrote "Buddha or Bust: In Search of Truth, Meaning, Happiness and the Man Who Found Them All," after his own round-the-world spiritual pilgrimage while on assignment for National Geographic Magazine. The article ("Buddha Rising," December 2005) and his book (June 2006) explore the growing popularity of Buddhism. In the process, Garfinkel grapples with his faith in faith-based traditions.

In "Buddha or Bust," which appeared on several best-seller lists this past summer, Garfinkel traces the footsteps of the Buddha and also views all spiritual journeys as a metaphor for self discovery.
 
Of the book, the Boston Globe wrote: "As John McPhee and Paul Theroux offer lush descriptions of physical landscapes in their works, Garfinkel surveys the internal world with equal scrutiny." Said Pulitzer Prize-winning journalist Tony Horwitz: "Garfinkel brings a reporter's sharp eye to an elusive subject." See: http://www.buddhaorbust.com.