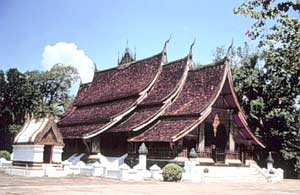 << Wat Xien Tong in Vientiane, the capital of Laos

Though looking plain with the frequent appearance of simple means of transport, the market is a favorite destination for many local consumers and foreigners in the capital city. Diversified kinds of locally-made and imported goods, ranging from fruits, garments, vegetables and flowers even to elephants, are available on the market.

Besides the Morning Market, Vientiane Municipality, the largest city of land-locked Laos located on the bank of the Mekong River, leaves quite a few deep impressions on foreigners. As the 26th General Assembly of the ASEAN Inter-Parliament Organization (AIPO) slated for Sept. 18-23 in the city is approaching, many streets, especially those leading to the meeting's venue, Don Chan Palace, the only five-star hotel in the capital, are beautified with flags, banners and flowers.

Security for the meeting is also strengthened with the appearance of more local policemen in green uniforms. Vehicles going to the hotel situated adjacent to the bank of the Mekong River are subject to security checks.

The reinforced security does not drive away the peacefulness of Laos, whose dominant religion is Buddhism. Local residents said each village in Vientiane has one pagoda. Up to 90 percent of Laos' population, estimated at 6 million now, are Buddhism believers.

The inner city alone houses over 60 pagodas, large rectangular structures made from brick and covered with stucco, which look more eye-catching and bigger than many government buildings. Situated on a vast plot of land, they are easily recognized from distance by their high-peaked roofs with curves at corners, and their glittering colors, mainly dark red and golden yellow.

The That Luang (great tower) in Vientiane capital is Laos' biggest stupa, a symbol of Buddhism. Its dome-like stupa and four-corner structure is a model for similar monuments throughout the country. The stupa, which is believed to house bones of Buddhists,was first built in 1566 and rebuilt in the 19th century.

Traditionally, Lao men become monks in a wat (Buddhist temple) for at least a short period in their lives, traditionally three months during the rainy reason, the residents said, noting that nowadays most men curtail their stay in a wat to one or two weeks.

Like pagodas, private houses in Laos can be recognized easily by their upside V-shaped traditional roofs and few stories, two orthree, even only one. In Vientiane, Laos' political, economic, cultural and social hub, most of buildings along main streets or roads have two or three stories. Houses several kilometers from the capital's center often have one story with a crimson, navy blue or light green roof.

People on roads in Vientiane are spared from noise because many local residents do not make horns when they are driving motorbikes or cars, two major transport means in the city. Although the government does not place a ban on horn making, many local people consider it irritating or impolite.

Few taxis are available in Vientiane. At the Don Chan Palace, Xinhua reporters had to spend over 15 minutes waiting for a taxi. When being asked for a receipt or a name card, the taxi driver said, "I don't have," pointing his hand to the taxi name and phone"Lavi Taxi 35.00.00" painted on the car.

Contrary to the availability of taxis, tuk tuk, three-wheel taxis with the front part looking like a big motorbike, all imported from Thailand, go along streets like shuttles. There are several tuk tuk associations, such as airport tuk tuk and market tuk tuk, and their member drivers have a card with a photo and a code hanging around their necks. It is more economical to take a tuk tuk, than a taxi, providing that foreign passengers are good at bargaining.

Most of taxi and tuk tuk drivers in Vientiane can speak English,which is emerging a language of business in Laos, whose residents have a good command of Thai. The two languages of Lao and Thai have some 70 percent of vocabulary and pronunciation in common, the residents said.

The number of people speaking Lao in Thailand, Laos' neighboring country on the other bank of the Mekong River, is much higher than that in Laos due to historical legacy, they noted.

Lao people are friendly and enthusiastic, given that they are willingly to show ways for strangers, even invite them to their houses.

Although many residents of Vientiane, especially youths, own modern electronics devices such as DVD players and Internt-enabled mobile phones, and sometimes perform modern arts like hip-hop dance on streets, the city is still a traditional one. Local men and women do not show their affection in public places. Almost no hugging or kissing is seen in the places. It is forbidden for women to touch Buddhist monks and the other way round.

Lao people regard the head as the most sacred part of the body,and the foot's sole the least, so they do not like their heads being touched or others' feet pointing to them as well as their properties.