The Botahtaung Pagoda is located on the Botahtaung Paya Road, which was named after the Pagoda. It is situated way downtown beside the Yangon River. The Pagoda overlooked the pleasant water front of the river.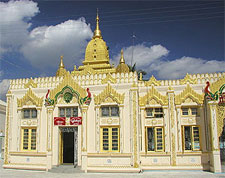 The Botataung Pagoda was named after the thousand military leaders who escorted relics of the Buddha brought from India over two thousand years ago. The meaning of Bo is "leader" and tahtaung is "a thousand" . It was built almost in the same time as Sule Pagoda and Shwedagon Pagoda over, 2500 years ago. The name of the pagoda was originally Kyaik-de-att, which was a Mon name, or Sandaw Shin as it is enshrined with the sacred hair of the Lord Buddha.
Structure
The Botataung Pagoda is hollow inside and you can walk through it. It's a sort of mirrored maze inside the pagoda with glass show-cases containing many of the ancient relics and artifacts which were sealed inside the earlier pagoda. Above this interesting interior, the golden pagoda spire rises to 40 metres (132 feet).

It rises on the circular base and especially its umbrella or country at the top of the spire in quite different from the conventional design.
Festival and Event
The festival of the Botahtaung pagoda is annually celebrated during the dry season. There was the weaving contest held on the precinct of the pagoda and also the contest of cooking Htamane is held every year. Htamane is a traditional Myanmar food, cooked from the sticky rice with nuts and coconut, at such events. During the festival, one of the cultural theatrical troupes usually performs throughout the night to entertain the audience, who come to pay homage and enjoy the festival. The usual food stalls are also at the entranceway as a complement to the festival traditions
Renovation
The pagoda was rebuilt in modern adaptation after it had been demolished by Allied bombing during the World War II. The relics excavated during the time of repair are enshrined in the visible showcase on the interior corridor walls. Together with the relics are silver, bronze and alabaster images of Buddha in a Pagoda- shaped casket serving as a repository of the sacred Hair and relics of the two great Disciples.

After the renovation works on the pagoda a sign of new Temples and other religious objects are constructed on the precincts of the pagoda. The area of the site is limited because of the river front on one side, but the necessary buildings including monasteries can be build in the premises.