Vientiene
Vientiene is the administrative capital and largest city of Laos. It lies about 210 km southeast of the former royal capital of Luang Phabang Luang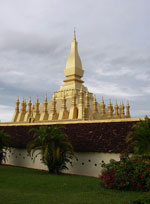 << The Pha That Luang in Vientiene
The city is noted for its canals, its houses built on stilts, and its numerous pagodas, one of which now houses an architectural museum. There is an international airport.
History
Vientiene was the capital of a Lao kingdom from 1707. It was sacked by the Siamese in 1827. It passed under French rule in 1893 and became the capital of the French protectorate of Laos in 1899. The ruins of the old capital are near the modern city.
What to see
For a capital city, Vientiene is rather laid-back capital of Laos. One could walk from one end of the center of town to the other in about twenty minutes.
A key site one cannot miss is the Pha That Luang, the famous golden stupa in Vientiene. It is the symbol of Buddhism in Laos.
Another place of interest is the Buddha Park, about 25 km from Vientiene. It is a park filled with a wide assortment of Buddhist statues coming in all sizes. The reclining Buddha is simply enormous.
Getting there
Wattay International Airport (IATA: VTE, ICAO: VLVT) is one of the few international airports in Laos. It is located 3 km (2 mi) outside its capital, Vientiene. Due to lack of competition, flights can be quite expensive. The airport consists out of an old and small domestic terminal and a new international terminal.
The following airlines services flights in and out of Vientiane:
Bangkok Airways (Bangkok-Suvarnabhumi)
China Eastern Airlines (Kunming)
China Southern Airlines (Guangzhou) [starts October 07]
Lao Airlines (Bangkok-Suvarnabhumi, Chiang Mai, Hanoi, Houei Sai, Kunming, Luang Namtha, Luang Prabang, Oudomxay, Pakse, Phongsaly, Sam Neua, Sayaboury, Siem Reap, Xieng Khuang)
Thai Airways International (Bangkok-Suvarnabhumi)
Vietnam Airlines (Hanoi, Ho Chi Minh City, Phnom Penh)
Places of Interest