Gio-ji temple is a Shingon sect temple appearing in Heike Monogatari (Tale of the Heike). A quiet temple surrounded by trees and a luxuriant moss garden, trees there grow quite densely and the temple is often in deep shade. Inside the temple however is a statue of Dainichi Nyorai, the Buddha of Light. Other statues inside are connected to the temple's place in Japanese history and literature.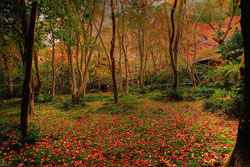 << Photo: Gio-ji Temple Garden
History
The temple is named for Gio, a dancer from long ago who fell in love with Taira-no-Kiyomori, the mighty commander of the Heike Clan. When he ended their relationship, Gio retreated to this temple to spend the rest of her life as a Buddhist priestess, along with her sister, mother and another of Kiyomori's spurned lovers. Wooden statues of the women and Kiyomori are enshrined in the main hall. The current structure was rebuilt in 1895.
What to see
Visitors can view the image of Dainichi Nyorai, or the Cosmic Buddha, the supreme being in Esoteric Buddhism and the deification of sunlight. Also found here are wooden images of Gio, Gijyo-Touji and Hotoke Gozen, and Taira no Kiyomori

The stone gorin-to (stupa of 5 elements representing earth water fire wind air) is said to be the grave of Taira-no-Kiyomori. Gio and Ginyo are enshrined at the hokyo-in. This is the stone pagoda with ear-shaped projections from the corners of the roof. 

The temple grounds are especially beautiful in autumn, when the leaves change colors and stand in sharp contrast to the green moss.
Adress
32, Saga-Toriimoto-Kozaka-cho, Ukyo-ku, Kyoto.
Tel: 075-861-3574